You've just installed hardwood floors in your home, or purchased a home with existing hardwood flooring, or maybe you're one of those people that discovered hardwood beneath your carpet. You take the next steps choosing a finish color and type and they look amazing. They look like the floor of your dreams. So what now? How do you maintain your floors to keep them looking stunning? Below we'll look at some ways to extend the beauty and longevity of your investment.  
First let's look at some common issues and their solutions.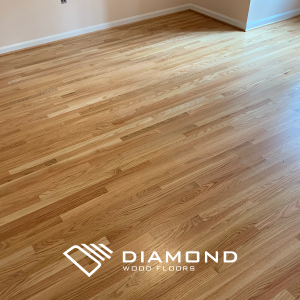 1. Avoid Harsh Chemicals 
It is important to use a product specifically designed for hardwood floors. Some floor cleaners consist of a chemical makeup or fragrance additives that are detrimental to the finish of your floor. These products can cause premature wear, stripping, hyper cleaning or cause the finish to haze. 
Some traditional cleaning products can also create a build up over time, trapping dirt, grime and bacteria on your floor's surface.We recommend Bona products when caring for your floor. They even make other products for a variety of surfaces in your home. 
2. Avoid Water
This may sound a bit counter intuitive, but water can greatly affect the performance of your floor. Any spilt or standing water should be cleaned up as soon as possible. Water tracked in from outdoors can contain debris, irritants or de-icing agents that ruin the look of the floor. Throw rugs and doormats can help remediate this issue.
Anytime we talk about the danger of water and your hardwood floor it's also important to point out you should use a spray mop with a proper hardwood floor cleaner. Again our friends at Bona make some great models for your flooring needs. 
3. Protect From Direct Sunlight
Over time excessive sunlight can change the look of your floor. Sunlight can cause fading, bleaching, and even change the color and hue of your floor. Shades and drapes can guard against the dangers of direct sun and can help protect area rugs and furniture as well. Rearranging your room can also limit damage from sunlight. Consider using area or throw rugs in large open areas that are exposed to long periods of sunlight. 
4. Protect against scratch and scuff damage
Scuffs and scratches are inevitable, but by removing shoes at the door, placing runners or area rugs in high traffic areas and using felt pads for your furniture you can drastically cut down the wear and damage to your floor's finish. Again regular sweeping, vacuuming and mopping reduce the chances of scuff and scratch damage. 
In summary
Dust and Sweep regularly

Dry/Damp Mop regularly 

Use a spray mop with proper floor cleaner regularly (we recommend

Bona

products)

Use runners and area rugs in areas that are subject to high traffic and long periods of sunlight

Remove shoes and use felt pads on the legs of furniture

Invest in a floor maintenance or aftercare program (read more

here

) that includes a bi-annual or annual deep clean.

Consider a recoat if your floor is several years old. 

You may need to refinish your floor. Refinishing is a normal part of the flooring process making them look brand new again. 
Final thoughts
Our floors are subject to almost all of our lives. A well kept floor will keep your floor performing well and increase the value of your home. Homeowners that invest in hardwood flooring receive a significant return on their investment. By following the tips and steps in this article you are helping protect that investment.
While most of the steps to care for a floor you already know about. As you can see, it doesn't take a lot of effort on the part of a hardwood floor owner to significantly increase the life of their hardwood floors. I hope this article helps you as you care for your hardwood floor. Got any questions? Give us a call or send an email we would love to help you out.