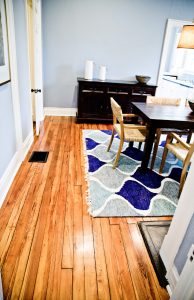 As 2023 approaches, homeowners are looking for ways to upgrade their homes and express their own style. As an Industry Insider we talked with several interior designers and other industry professionals we created this article to show what trends are on the rise in the coming year. Today's modern hardwood floors come in a variety of colors and styles, and they are a great way to add style and sophistication to any home.
Size Matters
One of the biggest trends in hardwood flooring this year is wide plank flooring. This style of flooring generally has planks that are at least four inches wide and can be up to 16 inches wide. Wide plank flooring adds drama and grandeur to a room, and makes a home look larger. Wide plank flooring is also extremely durable and easy to maintain.
A new challenger emerges
Due to its high-durability and classic look, white oak is becoming increasingly popular for residential and commercial purposes. The natural hue of white oak features a neutral tone that meshes well with a variety of interior decor styles. Furthermore, home and business owners benefit from the increased value that white oak flooring brings. 
In addition to its aesthetic appeal, white oak flooring is easy to maintain and specifically designed to withstand wear and tear. This makes it a great option for an array of different locations and environments, such as a kitchen, a family room, an office, or even a retail space.
Go bold with color! 
Gray tones are trending down and hues like espresso, cocoa, and dark walnut are trending up. This can be a risky move, but it can also be very rewarding. Many people are opting for deep, vibrant hues when it comes to their flooring. This can add a lot of character to a room, and is also perfect for those who like to be on the cutting edge of design. Check out some of the colors our friends at Berger-Seidle offer here.
On the other end of the spectrum, light-colored stains on hardwood floors offer homeowners a variety of advantages. One of the most obvious benefits is that these lighter stains make rooms appear larger and brighter, creating an open and inviting atmosphere. 
In addition, lighter-colored stains also help to bring out the beautiful grain patterns in the wood, as well as any knots, burls, or other unique features that are featured in the wood. As an added benefit, light-colored stains also show less dirt and dust, making them easier to keep clean over the long run.
Texture means taste
The next trend that is becoming popular in 2023 is using color and stain to create texture or "veins" in the flooring. This is a great way to add dimension and interest to a room, and can look stunning when done properly. It can also be used to create an illusion of movement in the flooring, which can be a great way to bring a room to life.
What's old is new again
Reclaimed hardwood flooring is also an option for homeowners who are looking for something that is truly unique. Reclaimed hardwood flooring is usually sourced from old buildings, with the wood being salvaged and recycled. Each reclaimed hardwood floor is unique, and can bring a rustic charm to a home.
Finally the biggestof the flooring trends
In recent years, however, hardwood flooring has become even more popular with homeowners due to the increasing availability of design elements such as medallions, inlays, wooden rugs and other decorative pieces. These add a customized luxury and elegance that will set your home or business apart from all others. See some of our previous work in our gallery.
From the material of the wood to custom patterns these are the trends we expect to see in 2023. This industry insider information combined with your own sense of style and design choice will be sure to add a modern and amazing look to the timeless elegance and class of a hardwood floor.