What is a hardwood floor maintenance program? 
Floor maintenance programs or aftercare services are follow up visits to ensure the performance and beauty of your hardwood floor. Floor maintenance is critical to protect the investment of your hardwood floor. From everyday dusting and sweeping to a dedicated process to remove buildup and product excess. Companies like Diamond Wood Floors work with their customers to make sure the customer get the most out of their floor.This article is a great guide for general floor care.
First Steps
The beginning of the process starts with you. Regular dusting, sweeping and vacuuming is essential to protect your floors from harmful abrasives and loose dirt. Irritants and soil can scratch and harm your hardwood's finish and dull its luster. This is especially important in high traffic or high soil areas. There are a few spaces in your home that are more prone to wear and damage than others. Places such as exterior or garage doors, places where your pets frequent, high traffic areas and children's play areas need some extra tlc. Other places to consider are kitchens, laundry rooms and restrooms as they are exposed to water and chemicals more frequently than others.
The next step
Invest in a dedicated cleaning product specifically for the surface of your home. To protect your hardwood floor investment we recommend Bona for all your home surface needs. This protects against excess water on your floor from frequent mopping and removes the possibility of chemical hyperclean, bleaching, or color shifting. While not the only product on the market, Bona's products are affordable and readily available at most superstores. 
Now it's time to give us a call
Your everyday efforts are supplemented by regular, quarterly, bi-annual, or annual deep cleaning depending on your needs. This deep cleaning removes product build up and micro grit that is difficult to remove from everyday efforts.  Our revive process is quick and affordable. In residential applications our process usually takes under four hours. There is no need to vacate your home and you have full use of your floor within hours of the projects completion.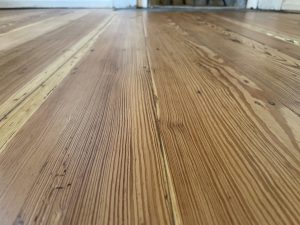 Last Step
The last part of a maintenance effort is a buff and recoat. This is our Restore process. This step is usually needed around year 5 of the life of your floor if the floor maintenance plan has been kept up with. This process is similar to a deep clean but we lightly abrade the floor and then put a fresh top coat to finish and seal the floor. This leaves you with a floor looking fresh and a new wear coat to ensure continued protection. It also brings new life to your floor, some floors, if well cared for look brand new. This is a much more affordable process than a full sand and refinishing service. 
Final thoughts
From your regular cleaning to calling a company like ours for additional expert service the aftercare of a floor is a necessity if you are going to have hardwood floors in your home. Floor maintenance provides other benefits as well, including the removal of excess irritants like pet dander and allergens. It also reduces your chances for needing your floor repair. Excess wear or damage can cause splintering, discoloration, or even major damage.
Having hardwood floors in your home is a smart choice, it increases the home's value, increases the resale ratio of your home. Wood floors can last more than a lifetime. A maintenance plan makes sense in order to protect that investment. This guide will help you ensure your floors continue to perform at a high level and lookamazing. As always we recommend you use a trusted service or company after you've done your part. At Diamond Wood Floors we are Certified Bona Craftsmen and implement their Revive and Restore processes. You can read more about them on our services tab.